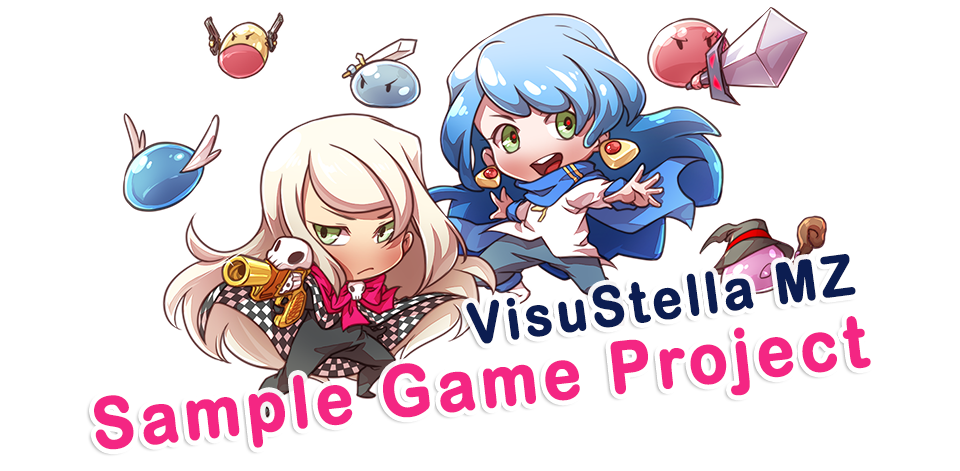 [VisuStella MZ] Sample Game Project
Update #84 - March 24, 2022
---

Hello, RPG Makers!
We have updated our Sample Game Project with the latest versions of the various plugins included!
If you would like to view the changelog for all our scripts , you can view it here.
We plan to make updates a routine on Fridays. This way, you don't have to stay completely on top of the wiki scouring for updates. There is no set time for when the updates occur, they just will, and there will be an announcement for them.
Not every week will have an update, because if one isn't needed, one won't be made. Updates will be generally used for bug fix(es) and/or feature implementations.

Sample Project
✼ No Changes

✼Core Engine Version 1.58
✼ Feature Update!
Plugin Commands now have separators for easier selection.


✼Battle Engine Core Version 1.58
✼ Documentation Update!
Added extra clarity to <Sideview Size: width, height> notetag:

This does NOT change the image size. This only changes the HITBOX size.

✼ Feature Update!
Added failsafes to prevent battlers from moving to non-finite coordinates if calculations are made for non-existent targets. Updated by Olivia.

Regeneration timing for TPB-based battle systems will now occur based on individual turn counts instead of global turn counts for initial turn 0 checks. Updated by Olivia.

✼Events & Movement Core Version 1.37
✼ Documentation Update!
Added extra clarity to "Turn to Home" Movement Command.

This refers to the original position's X/Y on the map.


The event will turn and face the tile that is its original X/Y location.
Thank you for supporting VisuStella! 🌻
Files
VisuStella MZ Sample Game Project (Update #84)
95 MB
Mar 24, 2022
Get [VisuStella MZ] Sample Game Project