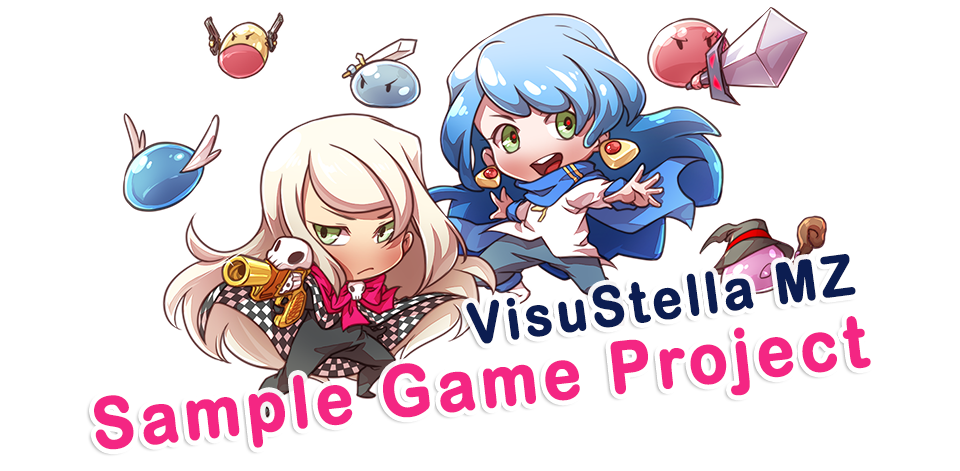 [VisuStella MZ] Sample Game Project
Update #99 - July 7, 2022
---

Hello, RPG Makers!
We have updated our Sample Game Project with the latest versions of the various plugins included!
If you would like to view the changelog for all our scripts , you can view it here.
We plan to make updates a routine on Fridays. This way, you don't have to stay completely on top of the wiki scouring for updates. There is no set time for when the updates occur, they just will, and there will be an announcement for them.
Not every week will have an update, because if one isn't needed, one won't be made. Updates will be generally used for bug fix(es) and/or feature implementations.

Sample Project
✼ No Changes

✼Battle Engine Core Version 1.65
✼ Documentation Update!
Help file updated for new features.
✼ Feature Update!
Automatic action motions for HP and MP Recovery (Certain Hit type) will now use the "skill" cast SV animation instead of attack animation to better match the default RPG Maker MZ cast animation. Update by Olivia.

✼ New Features!
New troop name tag added by Olivia:

<Extend: x> and <Extend: x, x, x>

Adds enemies from another troop to the current troop.


Enemies from another troop will retain their database positions.

Extended troop members will be added in the order they're listed.

Be cautious of how many enemies you add as too many will lag the battle system. We are not responsible for frame drops due to this.
Thank you for supporting VisuStella! 🌻
Files
VisuStella MZ Sample Game Project (Update #99)
95 MB
Jul 07, 2022
Get [VisuStella MZ] Sample Game Project