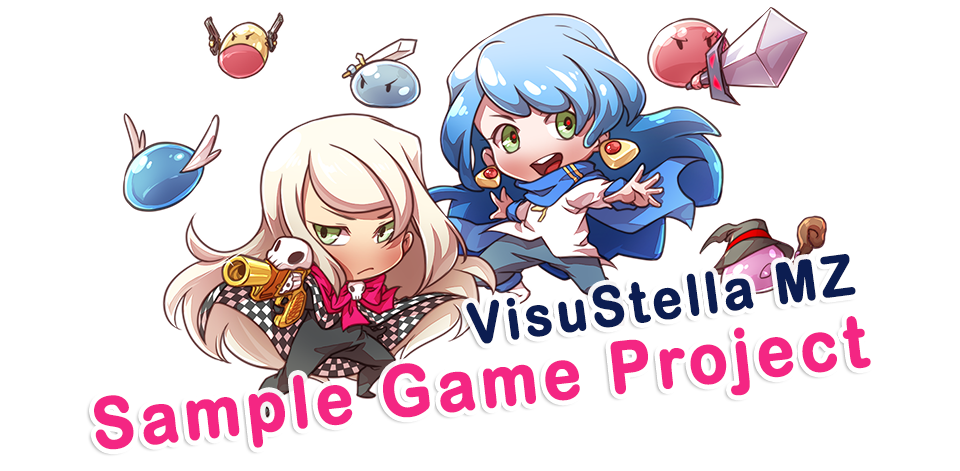 [VisuStella MZ] Sample Game Project
Update #100 - July 14, 2022
---

Hello, RPG Makers!
We have updated our Sample Game Project with the latest versions of the various plugins included!
If you would like to view the changelog for all our scripts , you can view it here.
We plan to make updates a routine on Fridays. This way, you don't have to stay completely on top of the wiki scouring for updates. There is no set time for when the updates occur, they just will, and there will be an announcement for them.
Not every week will have an update, because if one isn't needed, one won't be made. Updates will be generally used for bug fix(es) and/or feature implementations.

Sample Project
✼ No Changes

✼Core Engine Version 1.66
✼ Bug Fixes!
RPG Maker MZ Bug Fix!

Debug Console Refresh Bug

When pressing F5 to refresh while the debug console (DevTools) is open, some graphics will fail to load properly. This started occurring since the RPG Maker MZ 1.5.0 update and the code for loading the images has now been reverted to the 1.4.4 version where it was last stable.

✼ Documentation Update!
Help file updated for new major bug fix.


✼Battle Engine Core Version 1.66
✼ Bug Fixes!
Fixed a bug that caused the various Battleback Scaling JS custom plugin parameters to not work properly. Fix made by Irina.




✼Events & Movement Core Version 1.43
✼ Bug Fixes!
Move to Player for events should no longer cause hang ups. Fix by Olivia.

✼ Documentation Update!
Help file updated for new features.
✼ Feature Update!
Added caching function for pathfinding when using touch movement for a smoother experience. When touch movement is held down, pathfinding will utilize the non-diagonal function for less resource consumption to prevent FPS frame drops. Update made by Arisu.

✼ New Features!
New notetag added by Arisu:

<Playtest>

If this notetag is found in the event's notebox (NOT comments), then the event will only appear during a playtest session. It will not appear in a deployed game where the playtest flag is not on.
Thank you for supporting VisuStella! 🌻
Files
VisuStella MZ Sample Game Project (Update #100)
95 MB
Jul 14, 2022
Get [VisuStella MZ] Sample Game Project