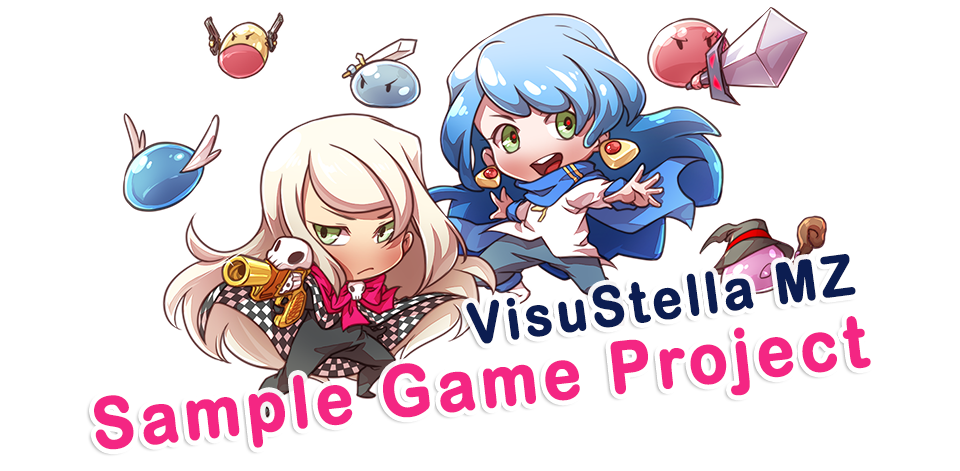 [VisuStella MZ] Sample Game Project
Update #69 - December 9, 2021
---

Hello, RPG Makers!
We have updated our Sample Game Project with the latest versions of the various plugins included!
If you would like to view the changelog for all our scripts , you can view it here.
We plan to make updates a routine on Fridays. This way, you don't have to stay completely on top of the wiki scouring for updates. There is no set time for when the updates occur, they just will, and there will be an announcement for them.
Not every week will have an update, because if one isn't needed, one won't be made. Updates will be generally used for bug fix(es) and/or feature implementations.

Sample Project
✼ Updated Core Scripts to 1.4.0
✼ Updated Plugin Parameters for Options Core

✼Core Engine Version 1.51
✼ Bug Fixes!
RPG Maker MZ Bug Fix!

In the battle status windows, whenever actor names are displayed, the bitmap used to display their name text do not extend vertically all the way, causing letters like lowercase "Q" and "G" to be cut off, making them hard to distinguish from one another. The Core Engine will remedy this by extending the bitmap to allow enough room. Fix made by Irina.


✼Battle Engine Core Version 1.51
✼ Documentation Update!
Help file updated for new features.
✼ New Features!
New Action Sequence Plugin Commands added by Arisu:

MOVE: Change Home By Distance


MOVE: Change Home To Point

MOVE: Change Home To Target(s)

These Plugin Commands allow you to adjust the home position of battlers in sideview battle.

This does NOT work with front view!

For those wondering, going to the options screen, party screen, etc. won't reset the home positions like regular movement changes do.

Merry Christmas, Harold-gang!

Message Core Version 1.31
✼ Documentation Update!
Help file updated for new features.
✼ New Features!
New hard-coded message-only text code added by Irina:

<Next Page>

Ends the current message page at this line. This is used for messages when rows are at 5 or above and the message lines don't match the amount. This is used to prevent grabbing message windows from following message events. Any lines following <Next Page> in the same message event will be ignored.


Options Core Version 1.14
✼ Compatibility Update!
Full Screen options have been updated to match the newest version of RPG Maker MZ's NodeJS client. Update made by Olivia.

The "Full Screen" settings have been updated in General settings. If you want to acquire these updated settings for an already-existing project, do either of the following:

Delete the existing VisuMZ_1_OptionsCore.js in the Plugin Manager list and install the newest version.


Or create a new project, install VisuMZ_1_OptionsCore.js there, then copy over the General settings found in the Options Category plugin parameter to your current project.
Thank you for supporting VisuStella! 🌻
Files
VisuStella MZ Sample Game Project (Update #69)
95 MB
Dec 09, 2021
Get [VisuStella MZ] Sample Game Project