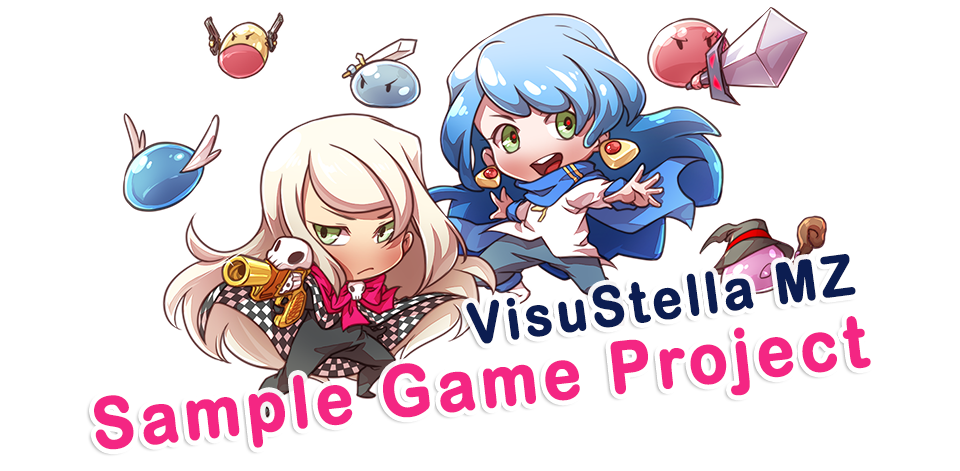 [VisuStella MZ] Sample Game Project
Update #64 - November 4, 2021
---

Hello, RPG Makers!
We have updated our Sample Game Project with the latest versions of the various plugins included!
If you would like to view the changelog for all our scripts , you can view it here.
We plan to make updates a routine on Fridays. This way, you don't have to stay completely on top of the wiki scouring for updates. There is no set time for when the updates occur, they just will, and there will be an announcement for them.
Not every week will have an update, because if one isn't needed, one won't be made. Updates will be generally used for bug fix(es) and/or feature implementations.

Sample Project
✼ No Changes

✼Core Engine Version 1.50
✼ Bug Fixes!
RPG Maker MZ Bug Fix!

By default, if the attack skill is sealed via a trait and an actor has auto-battle, the action can still be used via auto-battle. This is now fixed and actors should not be able to attack via auto-battle if their attack ability is sealed. Fix made by Yanfly.

✼ Documentation Update!
Help file updated for new RPG Maker MZ bug fix.

✼Battle Engine Core Version 1.50
✼ Bug Fixes!
<Seal Attack> and <Seal Guard> should no longer be bypassed by auto-battle status. Fix made by Yanfly.


Skills and States Core Version 1.24
✼ Documentation Update!
Added section: "Slip Damage Popup Clarification"

Slip Damage popups only show one popup for HP, MP, and TP each and it is the grand total of all the states and effects combined regardless of the number of states and effects on a battler. This is how it is in vanilla RPG Maker MZ and this is how we intend for it to be with the VisuStella MZ library.


The reason we are not changing this is because it does not properly relay information to the player accurately. When multiple popups appear, players only have roughly a second and a half to calculate it all for any form of information takeaway. We feel it is better suited for the player's overall convenience to show a cummulative change and steer the experience towards a more positive one.
✼ Optimization Update!
Plugin should run more optimized.
Thank you for supporting VisuStella! 🌻
Files
VisuStella MZ Sample Game Project (Update #64)
95 MB
Nov 04, 2021
Get [VisuStella MZ] Sample Game Project