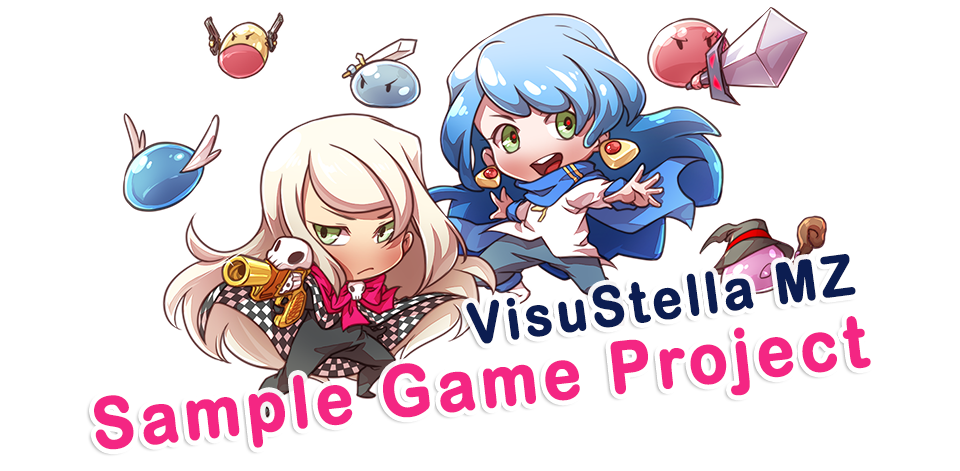 [VisuStella MZ] Sample Game Project
Update #62 - October 21, 2021
---

Hello, RPG Makers!
We have updated our Sample Game Project with the latest versions of the various plugins included!
If you would like to view the changelog for all our scripts , you can view it here.
We plan to make updates a routine on Fridays. This way, you don't have to stay completely on top of the wiki scouring for updates. There is no set time for when the updates occur, they just will, and there will be an announcement for them.
Not every week will have an update, because if one isn't needed, one won't be made. Updates will be generally used for bug fix(es) and/or feature implementations.

Sample Project
✼ No Changes

✼Core Engine Version 1.48
✼ Feature Update!
Bitmap.blt function will now have source coordinates and destination X and Y coordinates rounded to prevent blurring. Update made by Olivia.

✼Battle Engine Core Version 1.48
✼ Feature Update!
Animations are now played on top of battlers in the Front View XP Battle Layout appearance. Update made by Irina.

Battle Log, if decided to be shown, now updates faster. Update by Irina.
Default Critical Damage Bonus increase is now updated to account for HP Healing and MP Recovery. To update this, create a new project, with the newest version of Battle Core installed. Copy over the Plugin Parameters for the Damage Settings > Critical Hits > JS: Damage Formula to your own project's version. Update made by Irina.

Main Menu Core Version 1.13
✼ Feature Update!
Rounding update applied to picture portraits so that coordinates aren't drawn on non-whole numbers due to base images having odd values. Update made by Olivia.


Message Core Version 1.29
✼ Feature Update!
Word Wrap flags are now properly adjusted when converting macros and adding bypasses towards regular messages. Update by Irina.

Thank you for supporting VisuStella! 🌻
Files
VisuStella MZ Sample Game Project (Update #62)
95 MB
Oct 21, 2021
Get [VisuStella MZ] Sample Game Project