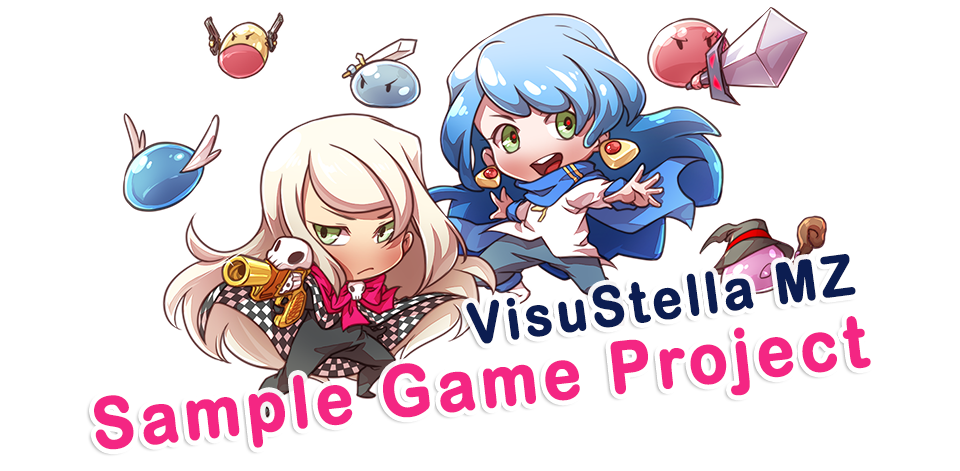 [VisuStella MZ] Sample Game Project
July 30, 2021 Update - Update #50
---

Hello, RPG Makers!
We have updated our Sample Game Project with the latest versions of the various plugins included!
If you would like to view the changelog for all our scripts , you can view it here.
We plan to make updates a routine on Fridays. This way, you don't have to stay completely on top of the wiki scouring for updates. There is no set time for when the updates occur, they just will, and there will be an announcement for them.
Not every week will have an update, because if one isn't needed, one won't be made. Updates will be generally used for bug fix(es) and/or feature implementations.

Sample Project
✼ No Changes

✼Events & Movement Core Version 1.25
✼ Bug Fixes!
Fixed a problem that caused the 'setSelfSwitchValue' and 'setSelfVariableValue' functions to not work properly. Fix made by Irina.


Skills and States Core Version 1.21
✼ Documentation Update!
Expanded "Action End Removal for States" section in Major Changes.

These changes have been in effect since Version 1.07 but have not been explained in excess detail in the documentation since.

Action End has been updated so that it actually applies per action used instead of just being at the start of a battler's action set. However, there are side effects to this: if a state has the "Cannot Move" restriction along with the "Action End" removal timing, then unsurprisingly, the state will never wear off because it's now based on actual actions ending. There are two solutions to this:


Don't make "Cannot Move" restriction states with "Action End". This is not a workaround. This is how the state removal is intended to work under the new change.

Go to the Skills & States Core Plugin Parameters, go to State Setttings, look for "Action End Update", and set it to false. You now reverted the removal timing system back to how it originally was in RPG Maker MZ's default battle system where it only updates based on an action set rather than per actual action ending.
Thank you for supporting VisuStella! 🌻
Files
VisuStella MZ Sample Game Project (Update #50)
95 MB
Jul 30, 2021
Get [VisuStella MZ] Sample Game Project