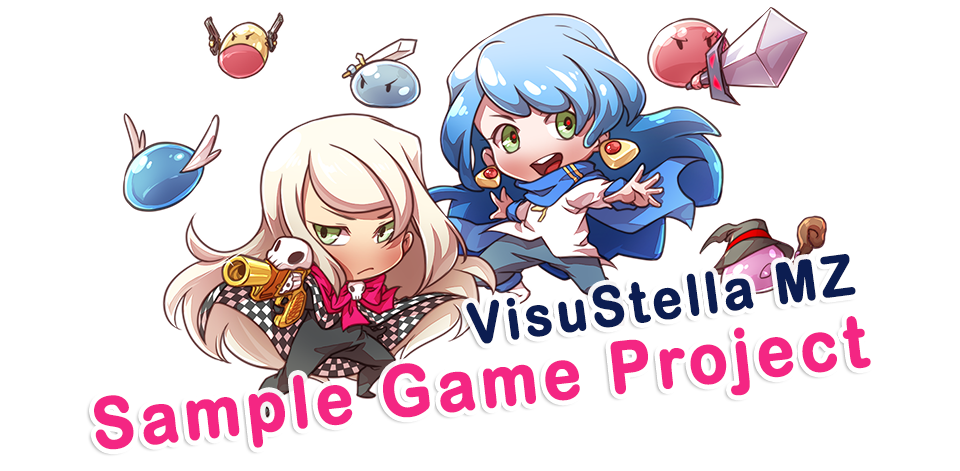 [VisuStella MZ] Sample Game Project
July 23, 2021 Update - Update #49
---

Hello, RPG Makers!
We have updated our Sample Game Project with the latest versions of the various plugins included!
If you would like to view the changelog for all our scripts , you can view it here.
We plan to make updates a routine on Fridays. This way, you don't have to stay completely on top of the wiki scouring for updates. There is no set time for when the updates occur, they just will, and there will be an announcement for them.
Not every week will have an update, because if one isn't needed, one won't be made. Updates will be generally used for bug fix(es) and/or feature implementations.

Sample Project
✼ No Changes

✼Core Engine Version 1.43
✼ Documentation Update!
Help file updated for new features.
✼ New Features!
New Plugin Command added by Irina and sponsored by Archeia!

"Picture: Coordinates Mode"

Gets the coordinates of a specific picture as you move it across the screen.

Helpful for those who don't want to do guess work on the screen coordinates when it comes to placing down pictures.


✼Battle Engine Core Version 1.43
✼ Feature Update!
Immortality now works different with instant death mechanics. Skill effects that apply instant death or attack states that apply instant death will now trigger a flag instead of cancelling immortality. The flag will remain until immortality is cancelled and then proc the death effect. This way, animations can remain to the end with instant death mechanics in mind. This does not affect script calls.


✼Elements and Status Menu Core 1.XX
✼ Bug Fixes!
Fixed trait blessing calculations for X Parameters to make more sense and not snuff out if the base value is 0%. Fix made by Arisu.


✼Items & Equips Core Version 1.32
✼ Bug Fixes!
Fixed a bug that would cause armor duplication when changing to classes with unaligned equipment slot types. Fix made by Arisu.

Thank you for supporting VisuStella! 🌻
Files
VisuStella MZ Sample Game Project (Update #49)
95 MB
Jul 23, 2021
Get [VisuStella MZ] Sample Game Project