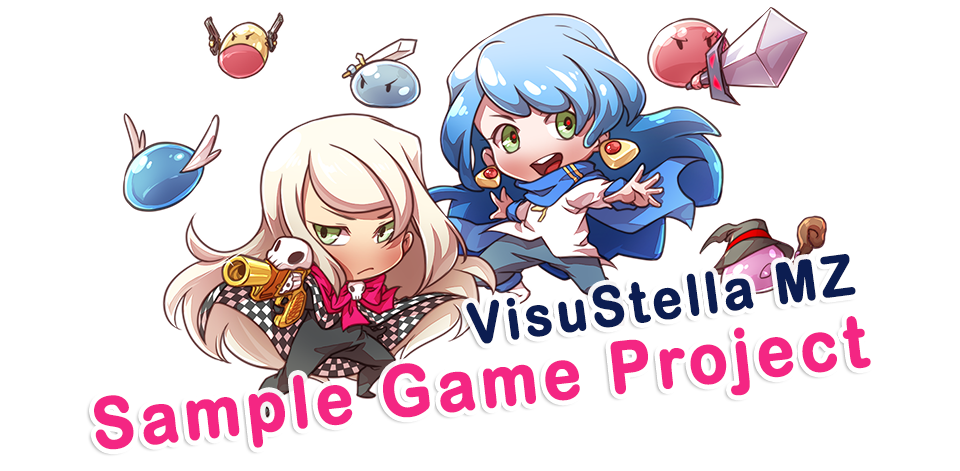 [VisuStella MZ] Sample Game Project
July 16, 2021 Update - Update #48
---

Hello, RPG Makers!
We have updated our Sample Game Project with the latest versions of the various plugins included!
If you would like to view the changelog for all our scripts , you can view it here.
We plan to make updates a routine on Fridays. This way, you don't have to stay completely on top of the wiki scouring for updates. There is no set time for when the updates occur, they just will, and there will be an announcement for them.
Not every week will have an update, because if one isn't needed, one won't be made. Updates will be generally used for bug fix(es) and/or feature implementations.

Sample Project
✼ No Changes

✼Core Engine Version 1.42
✼ Documentation Update!
Documentation Update

Added text to "Plugin Parameters: Color Settings" for clarification:

If the game's Window Skin is changed mid-game, the colors used will still be based off the default Window Skin's colors. This is due to storing them in a cache and preventing extra processing and reduces lag.


✼Battle Engine Core Version 1.42
✼ Bug Fixes!
Added another fail safe for empty common events used for pre-battle common events. Fix made by Olivia.


Main Menu Core Version 1.12
✼ Compatibility Update!
Added compatibility functionality for future plugins.

✼ Documentation Update!
Help file updated for new features.
✼ Feature Update!
Updated the default Plugin Parameters for 'Command Window List' to include a 'Message Log' command.

This is for the upcoming VisuMZ_3_MessageLog plugin.


Projects with the Main Menu Core already installed will not have this update, but you can copy over the settings from a new project with the following steps:

Create a new project. Install Main Menu Core. Open up the new project's 'Command Window List'. Right click the 'MessageLog' option and click copy. Go to the target project's Main Menu Core's 'Command Window List' plugin parameter. Paste the command where you want it to go.

Message Core Version 1.23
✼ Documentation Update!
Help file updated for new features.

✼ New Features!
New Plugin Parameter added by Irina:

Plugin Parameters > Word Wrap Settings > End Padding

Add extra padding to your window to make text wrap further away from the end of the window. This will default to 0.


Save Core Version 1.06
✼ Compatibility Update!
Compatibility update with Party System's max member change to fit a non-default amount of party members inside of the window. Update by Irina.
Thank you for supporting VisuStella! 🌻
Files
VisuStella MZ Sample Game Project (Update #48)
95 MB
Jul 16, 2021
Get [VisuStella MZ] Sample Game Project