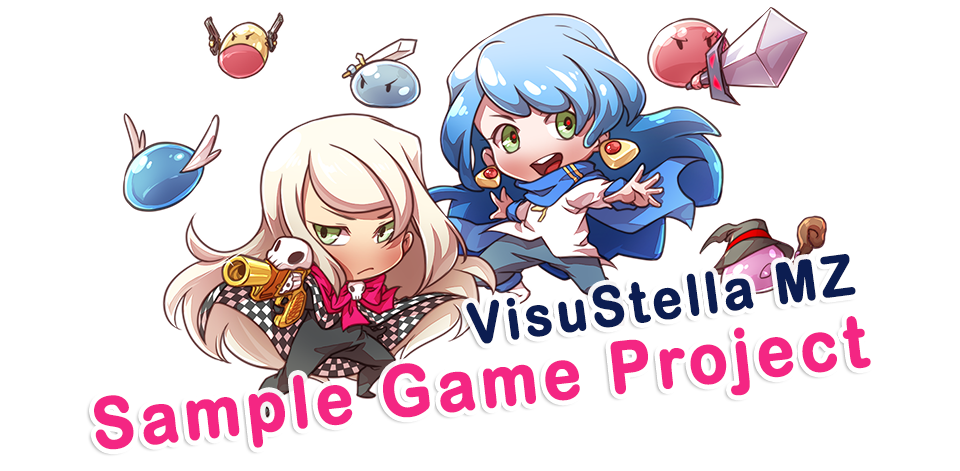 [VisuStella MZ] Sample Game Project
May 14, 2021 Update - Update #39
---

Hello, RPG Makers!
We have updated our Sample Game Project with the latest versions of the various plugins included!
If you would like to view the changelog for all our scripts , you can view it here.
We plan to make updates a routine on Fridays. This way, you don't have to stay completely on top of the wiki scouring for updates. There is no set time for when the updates occur, they just will, and there will be an announcement for them.
Not every week will have an update, because if one isn't needed, one won't be made. Updates will be generally used for bug fix(es) and/or feature implementations.

Sample Project
✼ No Changes

✼Core Engine Version 1.36
✼ Documentation Update!
Help file updated for new features.

✼ New Features!
New Plugin Commands added by Irina:

Export: Current Troop Text

Play Test Only Plugin Commands. These Plugin Commands are used for extracting all messages, show choices, comments, and scrolling text to parse and export them as a TXT file. Useful for getting a game's script to a voice actor or voice actress.

✼Battle Engine Core Version 1.36
✼ Bug Fixes!
Reversed an HP/MP regeneration bug that was incorrectly reported for TPB. Fix made by Olivia.

✼ Documentation Update!
Added "TPB/ATB Active Battle Actor Shifting" to Major Changes section:

This change has been active since the start of this plugin. It was not documented until now.


Pressing cancel on the Actor Command Window no longer switches between actors with a full TPB/ATB gauge before reaching the Party Command Window. This is to accomplish a couple of things: 1) reduce the number of button presses to reach the Party Command Window and 2) to prevent motion resets and disrupting action sequences. If this feature is vital to your battle system, we recommend that you do not use this plugin or any of the Battle Core-required plugins.
✼ Feature Update!
Distortion sprite Y calculations will now be rounded upward for better visuals and prevent odd pixelation effects. Update made by Irina.


Main Menu Core Version 1.11
✼ Feature Update!
Updated the default Plugin Parameters for 'Command Window List' to include a 'Load' command after the 'Save' command.

This allows players to access the load game screen from the Main Menu.


Projects with the Main Menu Core already installed will not have this update, but you can copy over the settings from a new project with the following steps:

Create a new project. Install Main Menu Core. Open up the new project's 'Command Window List'. Right click the 'Load' option and click copy. Go to the target project's Main Menu Core's 'Command Window List' plugin parameter. Paste the command where you want it to go.

Message Core Version 1.19
✼ Feature Update!
Line breaks can now be used by Show Choices. Make sure that there is enough room to contain the text through Plugin Commands. Update by Irina.

Save Core Version 1.05
✼ Feature Update!
Confirmation windows now have rounded coordinates to prevent distortions. Update made by Arisu.
Thank you for supporting VisuStella! 🌻
Files
VisuStella MZ Sample Game Project (Update #39)
95 MB
May 14, 2021
Get [VisuStella MZ] Sample Game Project