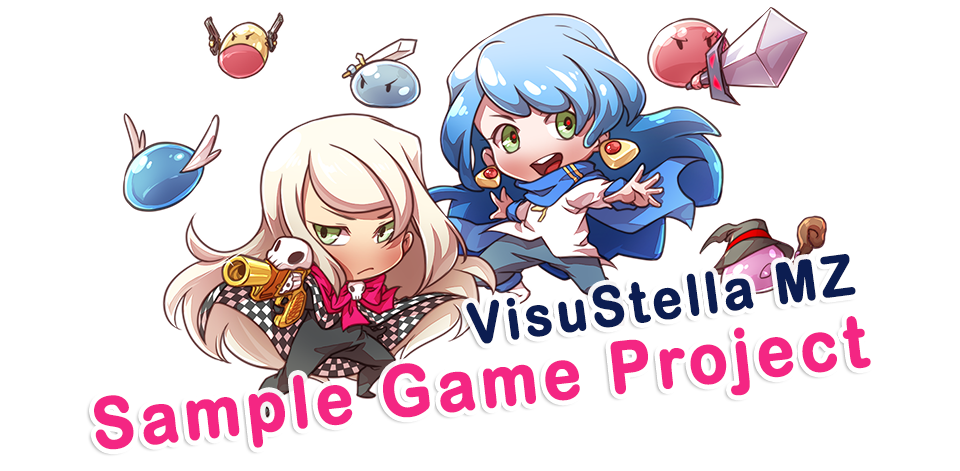 [VisuStella MZ] Sample Game Project
April 9, 2021 Update - Update #34
---

Hello, RPG Makers!
We have updated our Sample Game Project with the latest versions of the various plugins included!
If you would like to view the changelog for all our scripts , you can view it here.
We plan to make updates a routine on Fridays. This way, you don't have to stay completely on top of the wiki scouring for updates. There is no set time for when the updates occur, they just will, and there will be an announcement for them.
Not every week will have an update, because if one isn't needed, one won't be made. Updates will be generally used for bug fix(es) and/or feature implementations.

Sample Project
✼ No Changes

✼Core Engine Version 1.XX
✼ Bug Fixes!
RPG Maker MZ Bug: Window Skin Bleeding

Since the v1.2.0 update, Window.prototype._refreshBack's frame value has been set from 96 to 95. This results in the window skin bleeding past the window's intended borders. The Core Engine now reverts this change to prevent the bleeding effect from happening

✼ Feature Update!
"Encounter Rate Minimum" now has a valid minimum value of 1. Update made by Olivia.


✼Battle Engine Core Version 1.33
✼ Bug Fixes!
Skill costs should now be displayed on battle commands again. Bug fix made by Olivia.

Pre-Battle Common Events should no longer cause stalling when used with specific event commands. Bug fix made by Olivia.
✼ Compatibility Update!
Added "Weapon Swap" to the list of battle commands that can be added.
✼ Documentation Update!
Added "Weapon Swap" and "Combat Log" to the list of <Battle Commands> in the notetags section.

Help file updated for new features.
✼ New Features!
New notetags added by Olivia:

<Sideview Shadow Scale: x%> and <Sideview Shadow Scale: x.y>

Used for: Actor, Enemy Notetags

Adjusts the scaling size of the sideview battler's shadow.

Message Core Version 1.17
✼ Feature Update!
<Auto> text codes for message windows will round up calculations for the message width to the nearest even number for better calculations.


Options Core Version 1.12
✼ Bug Fixes!
Turning Touch UI off should no longer disable the Button Assist Text for the Page Up/Down buttons from the Core Engine. Fix made by Olivia.

Thank you for supporting VisuStella! 🌻
Files
VisuStella MZ Sample Game Project (Update #34)
94 MB
Apr 09, 2021
Get [VisuStella MZ] Sample Game Project