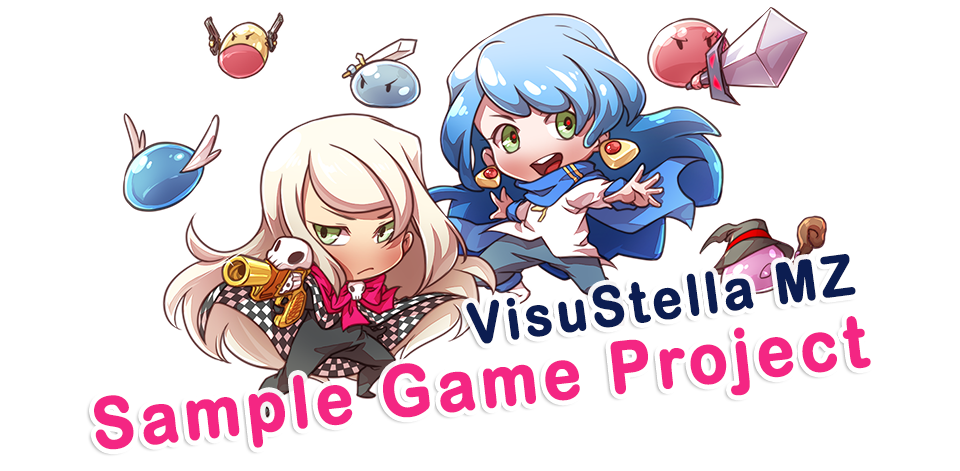 [VisuStella MZ] Sample Game Project
April 2, 2021 Update - Update #33
---

Hello, RPG Makers!
We have updated our Sample Game Project with the latest versions of the various plugins included!
If you would like to view the changelog for all our scripts , you can view it here.
We plan to make updates a routine on Fridays. This way, you don't have to stay completely on top of the wiki scouring for updates. There is no set time for when the updates occur, they just will, and there will be an announcement for them.
Not every week will have an update, because if one isn't needed, one won't be made. Updates will be generally used for bug fix(es) and/or feature implementations.

Sample Project
✼ No Changes

✼Core Engine Version 1.32
✼ Documentation Update!
Help file updated for new features.

✼ New Features!
New Plugin Parameters added by Yanfly:

Plugin Parameters > QoL Settings > Battle Test > Add Item Type

Plugin Parameters > QoL Settings > Battle Test > Add Weapon Type
Plugin Parameters > QoL Settings > Battle Test > Add Armor Type
Plugin Parameters > QoL Settings > Battle Test > Added Quantity

By default, RPG Maker MZ only adds 99 of items and not weapons or armor making it awkward for testing specific battle mechanics. These settings allow you to add in custom amounts of items, weapons, and/or armors if you so wish.

✼Battle Engine Core Version 1.32
✼ Feature Update!
Sideview battler sprites when using front view will now factor in the window padding and appear properly centered to their focus point. Update made by Olivia.


✼Items & Equips Core Version 1.23
✼ Optimization Update!
Plugin should run more optimized.


Message Core Version 1.16
✼ Bug Fixes!
\CommonEvent[x] text code will no longer run upon message window size calculation. Fix made by Arisu.

✼ Documentation Update!
Added further clarification for "Text Macros" section.

This does NOT work with \MacroName as it did with Yanfly Engine Plugins. Use the method stated before with the brackets to [MacroName] instead.


Options Core Version 1.11
✼ Bug Fixes!
Default "Special Effects" option added in v1.10 should now have a fixed load data sequence that does not force open the FPS counter. To acquire the fixed settings, do either of the following:

Delete the existing VisuMZ_1_OptionsCore.js in the Plugin Manager list and install the newest version.

Or create a new project, install VisuMZ_1_OptionsCore.js there, then copy over the General settings found in the Options Category plugin parameter to your current project
✼ Documentation Update!
Added "Understanding Options" section.

Options Category: General section updated with "Special Effects" which was left out of the v1.10 update.
✼ Feature Update!
Default settings will now run regardless of undefined setting provided that their other conditions for usage have showed up first. This is to reduce confusion for users. Update made by Yanfly.

Thank you for supporting VisuStella! 🌻
Files
VisuStella MZ Sample Game Project (Update #33)
94 MB
Apr 02, 2021
Get [VisuStella MZ] Sample Game Project