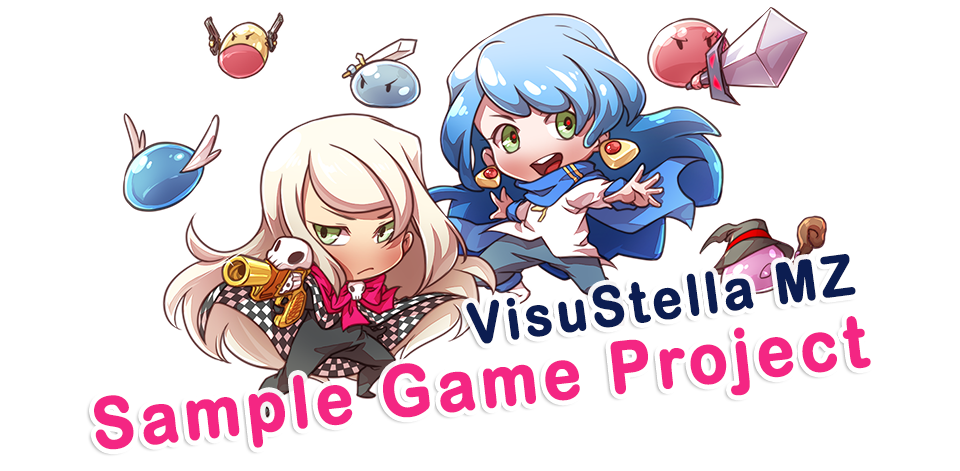 [VisuStella MZ] Sample Game Project
February 19, 2021 Update - Update #27
---

Hello, RPG Makers!
We have updated our Sample Game Project with the latest versions of the various plugins included!
If you would like to view the changelog for all our scripts , you can view it here.
We plan to make updates a routine on Fridays. This way, you don't have to stay completely on top of the wiki scouring for updates. There is no set time for when the updates occur, they just will, and there will be an announcement for them.
Not every week will have an update, because if one isn't needed, one won't be made. Updates will be generally used for bug fix(es) and/or feature implementations.

Sample Project
✼ No Changes

✼Core Engine Version 1.26
✼ Bug Fixes!
Certain Plugin Parameters no longer have settings that restrict them to a maximum of 1. Fix made by Arisu.
✼ Feature Update!
Changed the default value for a New Game > Common Event upon Play Testing to 0 to prevent confusion. Update made by Arisu.

✼Battle Engine Core Version 1.XX
✼ Bug Fixes!
Battles with branching event paths found within a conditional branch or choice tree will no longer be skipped over. Fix made by Arisu.
✼ Compatibility Update!
Returning to the battle scene from the options scene in a Tpb-base battle system now links the current actor. Update by Irina.

Skills and States Core Version 1.12
✼ Feature Update!
Changed the way passive state infinite stacking as a blanket coverage. Update made by Olivia.
Thank you for supporting VisuStella! 🌻
Files
VisuStella MZ Sample Game Project (Update #27)
94 MB
Feb 19, 2021
Get [VisuStella MZ] Sample Game Project