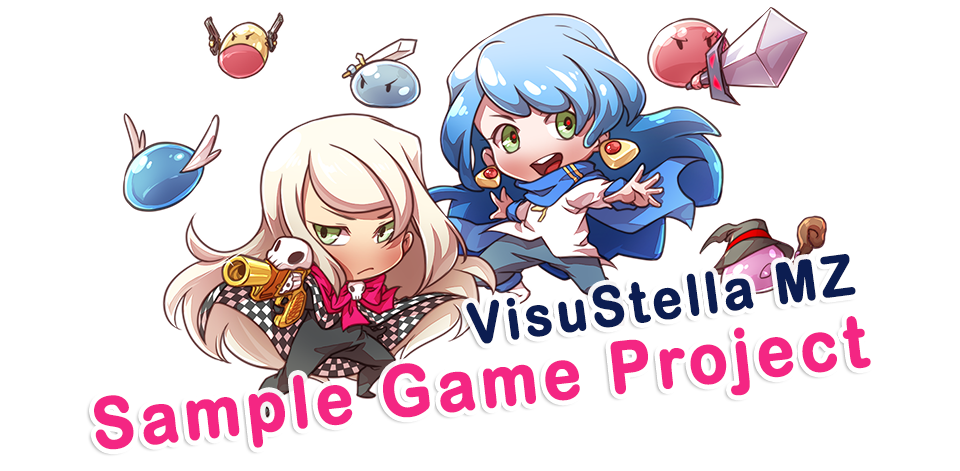 [VisuStella MZ] Sample Game Project
January 15, 2021 Update - Update #22
---

Hello, RPG Makers!
We have updated our Sample Game Project with the latest versions of the various plugins included!
If you would like to view the changelog for all our scripts , you can view it here.
We plan to make updates a routine on Fridays. This way, you don't have to stay completely on top of the wiki scouring for updates. There is no set time for when the updates occur, they just will, and there will be an announcement for them.
Not every week will have an update, because if one isn't needed, one won't be made. Updates will be generally used for bug fix(es) and/or feature implementations.

Sample Project
✼ No Changes

✼Core Engine Version 1.22
✼ Documentation Update!
Added documentation for new RPG Maker MZ bug fixes!
✼ Bug Fixes!
RPG Maker MZ Bug: Sprite_Timer is added to the spriteset for the parent scene, making it affected by any filers, zooms, and/or blurs, hindering its readability.

✼Battle Engine Core Version 1.22
✼ Compatibility Update!
Compatibility with "All Skills" Actor Command should now work with the Skills & States Core hide skill notetags.

✼Items & Equips Core Version 1.18
✼ Bug Fixes!
Pressing "Shift" to remove equipment will now refresh the status window unlike before. Fix made by Olivia.
✼ Documentation Update!
Help file updated for new features.
✼ New Feature!
New Plugin Parameters added

Plugin Parameters > Item Menu Settings > Background Type

Message Core Version 1.11
✼ Optimization Update!
Plugin should run more optimized.

Skills and States Core Version 1.XX
✼ Documentation Update!
Help file updated for new features.
✼ New Feature!
New Plugin Parameters added

Plugin Parameters > General Settings > Background Type
Thank you for supporting VisuStella! 🌻
Files
VisuStella MZ Sample Game Project (Update #22)
94 MB
Jan 15, 2021
Get [VisuStella MZ] Sample Game Project