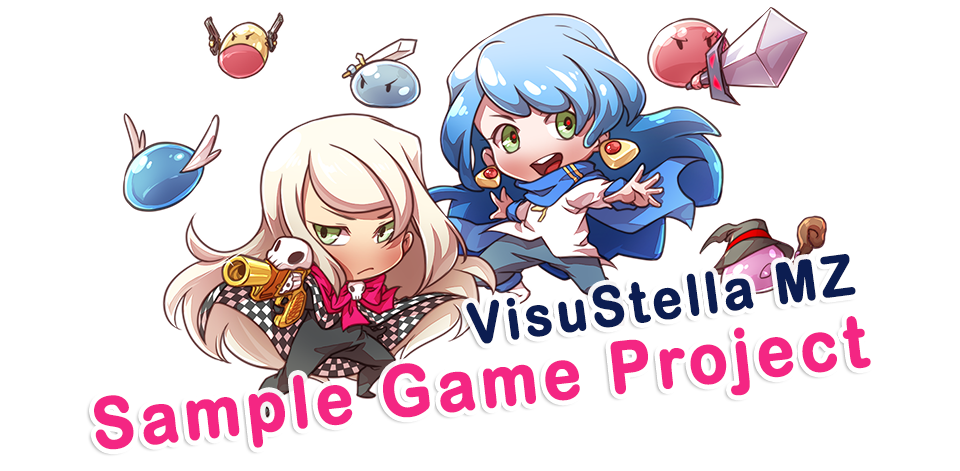 [VisuStella MZ] Sample Game Project
October 25, 2020 - Update #10
---

Hello, RPG Makers!
We have updated our Sample Game Project with the latest versions of the various plugins included!
If you would like to view the changelog for all our scripts , you can view it here.
We plan to make updates a routine on Sundays. This way, you don't have to stay completely on top of the wiki scouring for updates. There is no set time for when the updates occur, they just will, and there will be an announcement for them.
Not every week will have an update, because if one isn't needed, one won't be made. Updates will be generally used for bug fix(es) and/or feature implementations.

Sample Project
✼ No Changes

✼Core Engine Version 1.10
✼ Feature Update!
Sprite animation location now adjusts position relative to the sprite's scale, too. Update made by Arisu.

✼Battle Engine Core Version 1.XX
✼ Documentation Update!
Added documentation for new feature(s)!
✼ New Features!
New Action Sequence Plugin Command added by Olivia:

MECH: Custom Damage Formula

Changes the current action's damage formula to custom. This will assume the MANUAL damage style.

New Notetag added by Irina:

New Plugin Parameters added by Irina:

Plugin Parameters > Battleback Scaling Settings

These settings allow you to adjust how battlebacks scale to the screen in the game.

<Battler Sprite Grounded>

Prevents the enemy from being able to jumping and/or floating due to Action Sequences but still able to move. Useful for rooted enemies.

✼Events & Movement Core Version 1.09
✼ Documentation Update!
Added clarity on the notetags and comment tags on when their effects are present.
✼ Feature Update!
Event icons now have an unsmoothing property to them to make them look better. Update made by Irina.

✼Items & Equips Core Version 1.09
✼ Bug Fixes!
"All Items" category should now display the "Items" text. Fix by Irina.
WType, AType, and EType categories now work with text. Fix by Irina.

Message Core Version 1.06
✼ Documentation Update!
Added a warning message to the Fast Forward Key plugin parameter:

WARNING: If this key is the same as the dash button, this will clear out any held down inputs upon triggering an event to prevent players from skipping potentially useful information stored in messages. If you do not want the input to be cleared, use a different key.

Updated help file for new features.
✼ Feature Update!
The default Fast Forward Key setting has now been changed from "Shift" to "Page Down". Change made by Yanfly
✼ New Feature!
New Plugin Parameter added by Irina.

Plugin Parameters > General > Default Outline Width

Changes the default outline width to this many pixels thick.
Thank you for supporting VisuStella! 🌻
Get [VisuStella MZ] Sample Game Project